A CommandBox command for accessing cfdocs.org documentation.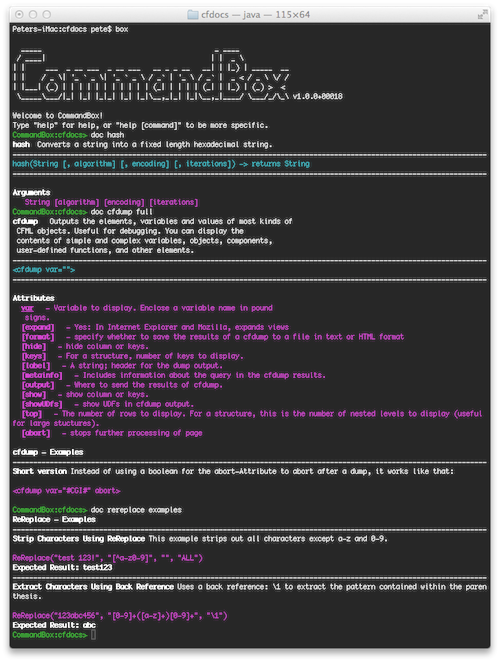 Install
First make sure you have CommandBox installed, then type:
box install cfdocs

Or if you are already within the CommandBox CLI, you can just type:
install cfdocs

Using the command
There are a few display modes you can use, the default:
doc cfdump

If you want full or verbose documentation try:
doc cfdump full

If you want a listing of function arguments try:
doc rereplace arguments

For tag attributes use:
doc cfhttp attributes

For examples try:
doc rereplace examples

There are a few shortcuts to these modes, you can use args instead of arguments, or attr instead of attributes, or ex instead of examples.
Version 0.1.4 2017-05-02 * updated box.json settings Version 0.1.3 2017-05-02 * Refactored to be a commandbox-module Version 0.0.3 2015-03-13 * Merged a pull request from Brad Wood supporting tab completion for functions. * Added autocomplete for tags * Added autocomplete mode Version 0.0.2 2015-03-12 * Fixed some display bugs * Renamed namespace to cfdoc Version 0.0.1 2015-03-12 * Initial Version!
Here are all the versions for this package. Please note that you can leverage CommandBox package versioning to install any package you like. Please refer to our managing package version guide for more information.
Version
Created
Last Update
Published By
Stable
Actions
Current
0.1.5
May 05 2017 10:46 AM
May 05 2017 10:46 AM
Version History
0.1.4
May 03 2017 11:32 AM
May 03 2017 11:32 AM
0.1.3
May 03 2017 11:24 AM
May 03 2017 11:24 AM
0.1.2
May 03 2017 11:16 AM
May 03 2017 11:16 AM
0.1.1
May 03 2017 11:12 AM
May 03 2017 11:12 AM
0.0.3
Mar 12 2015 01:09 PM
Jun 10 2016 10:24 AM